By KATE SHELLNUTT | Christianity Today
An evangelical church near the coast hardest-hit by Indonesia's recent earthquake and tsunami, Bethany Fresh Anointing Church in Palu, resumed worship on Sunday and Monday.
The congregation praised God for keeping their building standing and prayed for the two dead and two missing from their body.
"We pray for our town, and we pray for our leaders," a lay leader named Bernard told CT. "We pray and praise and worship. We [are] always in the presence of God."
While dozens churches in Palu held services over the weekend for the first time since the disaster, many Christian villagers outside of the capital city have no building to return to.
"I'm here at this particular church because my own church is no more; it's leveled, and on its location there's a corn plant," Min Kapala, a worshiper who traveled to the city from the outskirts, said in The Washington Post. "That was very strange to me."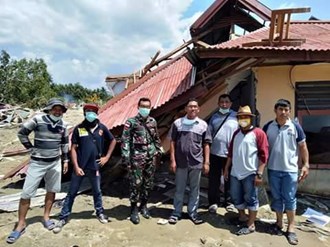 The Bible camp in Sigi, where hundreds of students were killed and buried in mudslide rubble, has slid nearly a kilometer from its original site, according to leaders from the Indonesian Protestant Church in Donggala (GPID)—the biggest denomination in the Central Sulawesi province and the one that experienced the greatest loss in the disaster.
Because of severe damage to roads and buildings in remote areas, it has taken days for GPID officials and aid workers to reach the farthest-flung of the 100 churches across the province.
Ministry leaders are taking it one devastating day at a time.
Each evening they circulate an update counting the days since the September 28 earthquake and tsunami shook their island—now up to number 10—and the grim statistics: 1,600 dead, 2,600 injured, and unknown numbers buried, with 66,000 homes and 2,700 schools destroyed. Later this week, Indonesia's National Disaster Management Agency will end their searches and consider certain areas of Palu as mass graves for the dead.
But there are also more hopeful figures, thanks to the aid coordinated by the Christian minority in Central Sulawesi and West Sulawesi provinces. The Indonesian Council of Churches (PGI) and the Network of Christian Communities for Resilient Community Disasters in Indonesia (TBI Jakomkris) report that ministries are bussing in necessities, hundreds of kilos at a time, items ranging from ramen noodles to Pampers.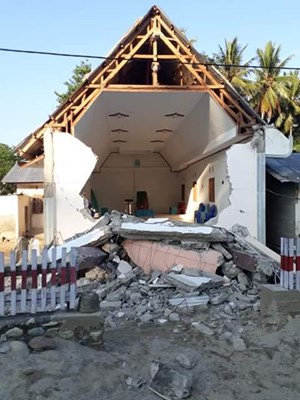 A Christian response team from the YAKKUM Emergency Unit (YEU) treated 40 patients at the Great Mosque of Palu and set up clinics at several local churches serving as evacuation sites.
Relief workers in the network are arranging trips to markets and gas stations that are finally reopening; setting up field hospitals for emergency surgeries; and offering counseling for children in villages through World Vision International, which has also amassed thousands of blankets and tarps to distribute.
Yance Darmawan, a GPID pastor and board member, has been organizing relief efforts from Palu. Teams have been held up by downed trees, cracked roads, and steep mudslides. Churches near the Bible camp mudslide have also been ruined. GPID Balanggu Church in Gumbasa, Sigi, lost the front of its building.
Despite talks of coming together with their Muslim neighbors for an interfaith prayer gathering, nothing has been scheduled yet, the Post reported.
In the Central Sulawesi province, Protestants make up 17 percent of the population and represent the largest religious minority.